Having pests in your home or establishment is not only embarrassing, it can be a serious health hazard. Rats and flies can carry deadly illnesses that could affect you and your entire family; ants and cockroaches could spoil your food supply and destroy your garden; and termites could damage your home or property's structural integrity.
Needless, failing to remove pests from your property can cost you. And sometimes, do-it-yourself pest control just doesn't cut it. At the first sign of pests in your home, you need to contact the best pest control companies, who can not only remove the animals from your home, but also make sure they never return.
Finding quality pest control in Richmond can be a bit tricky. Some of these companies like to promise that they offer safe and effective services, but actually don't deliver. Oftentimes, the pests end up returning because the pest control company failed to put up safeguards against infestations.
Another problems is the tendency for some companies to use harsh chemicals to get rid of pests, which is dangerous since these chemicals linger for months after treatment. Cost is another concern, as some pest control companies don't check the pest situation and charge a ridiculously large sum for certain jobs—most of them very simple.
Bottom line is, you need to look for local pest control services that are trustworthy, deliver results, are cost efficient, and use eco-friendly methods in taking care of pests.
Before getting a pest control service, you need to keep a few things in mind. Below are a few factors to consider when choosing the best pest control in Richmond Hill.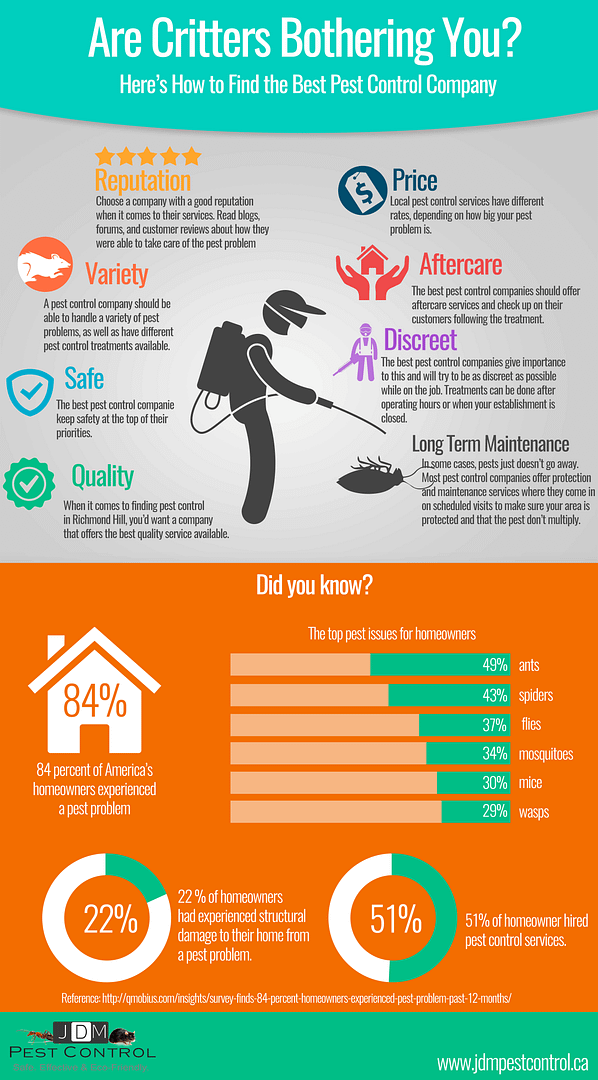 Quality
When it comes to finding pest control in Richmond Hill, you'd want a company that offers the best quality service available. If a company says that they can handle your pest problem, it should mean that they can completely get rid of your pest problem without any re-treatment, unless of course the infestation requires multiple visits.
Bottom line, the company should be able to stick to the treatment plan and show your real results.
Safe
The best pest control companies keep safety at the top of their priorities. Ideally, a good company should only use harsh pesticides as a last resort, as these can cause serious harm to people and pets. Pest treatments also need to be environment-friendly, so as not to damage your home's surroundings, and harm the people living in your property. You don't want to end up having a treatment sprayed or done in your home that could cost you your health.
Variety
A pest control company should be able to handle a variety of pest problems, as well as have different pest control treatments available. If your home has been infested by several kinds of critters, the company should be able to handle all of them with little problem. The best pest control companies should also use humane pest control methods, especially for rats, mice, raccoons, and other bothersome animals.
Reputation
Choose a company with a good reputation when it comes to their services. Read blogs, forums, and customer reviews about how they were able to take care of the pest problem, their treatment methods, and how effective they were. You can go online and find comments and reviews about the company or ask friends and family if they have tried or know anyone who has tried hiring them for local pest control services.
Discreet
As mentioned, having a pest issue is embarrassing, especially when your property is a business establishment. Customers encountering pests could very well damage your business's reputation, leading to a loss in customer loyalty. The best pest control companies give importance to this and will try to be as discreet as possible while on the job. Treatments can be done after operating hours or when your establishment is closed.
Price
Local pest control services have different rates, depending on how big your pest problem is. Look for a company that will assess the situation first before they actually come in for the treatment.
They can give you a quote on how much their service is going to cost for your case, and personally talk to you about the different options you have. The best pest control companies should inspect the area first before giving you price. This way, you avoid being cheated and you're sure that the company offers legit services.
Aftercare
The best pest control companies should offer aftercare services and check up on their customers following the treatment. The exterminator should also give you tips on how you can avoid getting pest in your home or establishment again. You also have to do your share in keeping pest out of your home or establishment, so don't forget to talk to the exterminator.
Long Term Maintenance
In some cases, pests just doesn't go away. Most pest control companies offer protection and maintenance services where they come in on scheduled visits to make sure your area is protected and that the pest don't multiply. Long-term treatments and maintenance such as traps are often the solution for these cases.